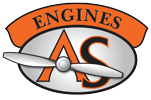 Scale Vehicle Engines
Gasoline
EFI (Electronic Fuel Injection) system: "QuickFire EFI - Fuel, Fire & Fly." No more messing with pesky carburetors.

Water-cooled by radiator (requires extra electrical high speed cooling fan)
Straight shafts only(no reduction gear included).
Assembled in the U.S.A.
Planned for future development.
Disclosure: These engines are for radio control toy applications only. Not for use when human life depends on these engines.